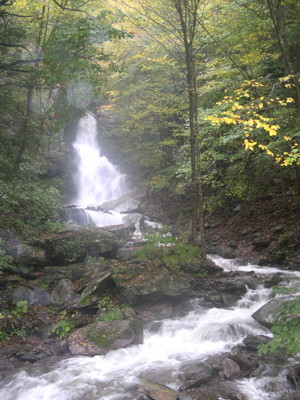 Introduction
Encompassing approximately 95 square miles, the Rondout Reservoir watershed, is located primarily in Sullivan and Ulster County, NY. The Rondout Reservoir watershed drains mainly two towns – Denning in Ulster County and Neversink in Sullivan County. Small portions of Rochester, Wawarsing, Shandaken and Olive (Ulster) and Fallsburg (Sullivan) are also within the reservoir watershed. The lowest elevation within the watershed is 840 ft at the reservoir and the highest point is near the headwaters of the Rondout Creek at 3,837 ft. The primary tributaries that drain into the Rondout Reservoir are the Chestnut Creek, Trout Creek, Red Brook, Sugarloaf Brook and Rondout Creek. Streams in the Rondout valley are primarily perennial streams, that is, they flow year-round except in smaller headwater streams or in rare, extreme drought conditions.
In order to meet both surface and groundwater needs, both quality and quantity, it was determined that a comprehensive watershed approach was required to document the magnitude of potential impairments, and involve watershed stakeholders in recommending strategies for remediation and management. To date, the Sullivan County Soil and Water Conservation District (SCSWCD) and New York City Department of Environmental Protection (NYCDEP) have completed a stream management plan for the Chestnut Creek and a demonstration restoration project behind the Neversink Town Hall. NYCDEP has plans to conduct a similar study within the Rondout Creek watershed in upcoming years.
Additionally, the nonprofit organization, Hudson River Sloop Clearwater, received grant money from the Hudson River Estuary Program to work with communities in the Rondout watershed below the Reservoir. The goal of the project is to engage community members in watershed planning. Already various stakeholders have agreed to participate on a Rondout Watershed Council. Activities planned for upcoming months include Watershed Awareness Training and Stream Monitoring Training.
Maps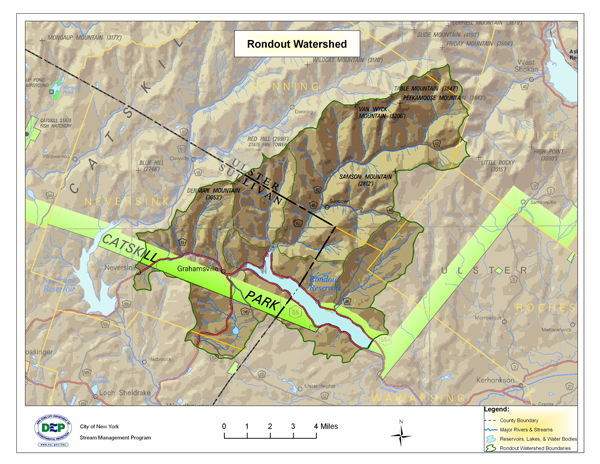 Click here for a larger view of the above map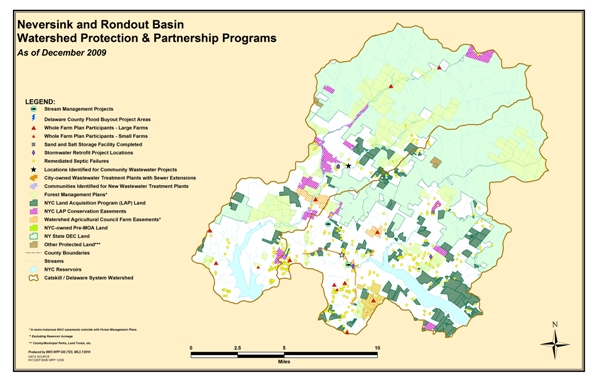 Click here for a larger view of the above map
USGS Gage Links
The United States Geological Survey (USGS) maintains 5 continuous-recording stream gages in the Rondout Creek watershed above and below the Reservoir. These gages measure the stage, or height, of the water surface at a specific location, updating the measurement every 15 minutes. Click on the Station ID number of your gage of interest to receive real-time water surface data from USGS.
Station ID
Station Name
Drainage
Area (Mi_)
Current Period of Record
ABOVE
01364959
Rondout Creek near Red Brook at Peekamoose

5.36

May 1996 - Sept 2011
01365000
Rondout Creek near Lowes Corners

38.3

Feb 1937 - present
01365500
Chesnut Creek at Grahamsville

20.9

Oct 1988 - present
BELOW
0136230002
Rondout Creek at Rosendale
383
Aug 1926 - present
01362342
Wallkill River at Gardiner
695
Sep 1924 - present

Demonstration Restoration Projects
Chestnut Creek:
Town Hall Demonstration Site
East Branch Rondout Creek:
Bank StabilizationDemonstration Project at the Ulster County Highway Garage (21 MB)
Stream Management Plans
Intro and links to Stream Management Plans
Upper Rondout Creek Stream Management Plan Summary (4.3 MB)
Basin Specific Studies and Other Resources
THE SOURCE, February 2012 Newsletter of the Rondout/Neversink Stream Management Program
Spread the Word, Not the Weed: Knotweed Brochure
Managing Large Woody Debris in Sullivan County, NY
Rondout Creek Report Card (NYSDEC and HBRW)
Opinions and Interests Concerning Stream Management Expressed By Streamside Landowners in the Upper Rondout and the East and West Branches of the Neversink River, 2009
Rondout Basin Action Plan(s)
Rondout/Neversink Stream Management Program Action Plan 2010 – 2012
Rondout/Neversink Stream Management Program Action Plan 2013 – 2013
Contact Information
Lower Rondout

Upper Rondout

Victor-Pierre Melendez

Rondout Creek Watershed Council Coordinator

Hudson River Sloop Clearwater
724 Wolcott Ave.
Beacon, NY 12508
Phone: (845) 845) 265-8080
victor@clearwater.org

Karen Rauter

Stream Program Coordinator

Sullivan County Soil & Water Conservation District

P.O. Box 256, 273 Main Street
Grahamsville, NY 12470

Phone: (845) 985-2581

NYCDEP
Mark Vian
Project Manager
71 Smith Ave
Kingston, NY 12491
Phone: (845) 340-7851
Fax: (845) 338-1367
mvian@dep.nyc.gov