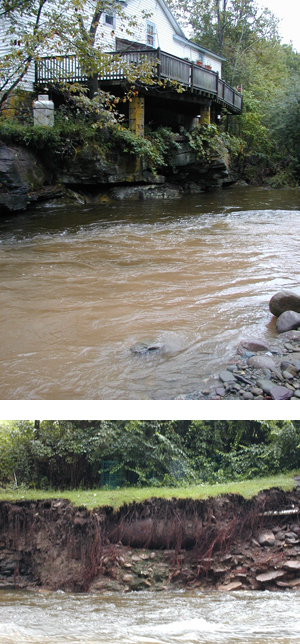 As their name implies, floodplains are subject to periodic flooding. When there is a flood,healthy floodplains provide storage areas for flood waters, reduce flood velocities and reduce flood peaks. A properly functioning floodplain can also provide other benefits like filtering pollutants and wastes. It can help to moderate temperature, and provides vital habitat. A stream can be disconnected from its floodplain by filling and developing the floodplain or digging in the stream channel. Once disconnected, instability and erosion throughout the stream system can result. It is typically recommended to avoid building structures in the 100-year floodplain-the area which has a 1% chance of being inundated in any given year. Remember, anything in the floodplain (including buildings) is at risk of being washed downstream. Visit your town clerk's office to learn whether or not your house or any structures on your property are built within the 100-year floodplain.
Click here for suggestions for floodplain management

Contact Information & Links
FEMA and their Regional Environmental Officer:
Robert J. Tranter
Phone: 212-680-3628
1-800-621-3362 for individuals who are eligible for Individual Assistance post flood
USDA/NRCS service centers:
Ulster County
HIGHLAND SERVICE CENTER
5 PARK LANE
HIGHLAND, NY 12528
845-883-7162
855-401-1959 Fax
Greene County
GHENT SERVICE CENTER
1024 RT 66
GHENT, NY 12075-3200
518-828-4385
855-477-8525 Fax
Delaware County
WALTON SERVICE CENTER
44 WEST ST
WALTON, NY 13856-1041
607-865-7161
855-477-8526 Fax
Sullivan County
WALTON SERVICE CENTER
44 WEST ST
WALTON, NY 13856-1041
607-865-7161
855-477-8526 Fax
Please see the USDA/NRCS Service Center Locator for more information
Links and Resources
Click on the links below for more information:
USDA/NRCS – Emergency Watershed Protection Program: The Emergency Watershed Protection Program (EWP) was set up by Congress to respond to emergencies created by natural disasters. It is designed to relieve imminent hazards to life and property caused by floods, fires, windstorms, and other natural occurrences.
Floodsmart Gives a rating of flood risk as well as a variety of other information for local landowners.
Delaware County Multi-Jurisdictional Hazard Mitigation Plan