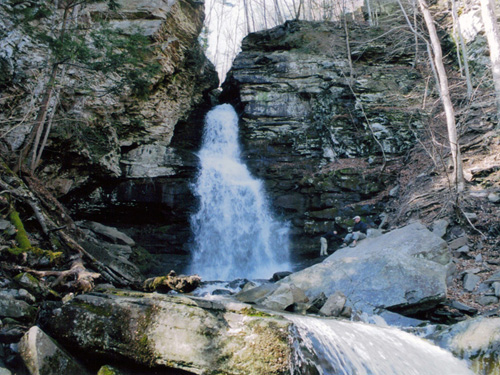 Stream Management Program – Interactive Project Pages
These pages provide information on a selection of full channel stream restoration, stormwater and infrastructure, riparian buffer restoration, streambank stabilization, and floodplain restoration projects that have been constructed to meet multiple objectives including: water quality enhancement, infrastructure protection, improved flood conveyance and sediment transport, improved fish habitat, improved riparian functions and natural channel design demonstrations.
Introduction
Encompassing approximately 95 square miles, the Rondout Reservoir watershed, is located primarily in Sullivan and Ulster County, NY. The Rondout Reservoir watershed drains mainly two towns – Denning in Ulster County and Neversink in Sullivan County. Small portions of Rochester, Wawarsing, Shandaken and Olive (Ulster) and Fallsburg (Sullivan) are also within the reservoir watershed. The lowest elevation within the watershed is 840 ft at the reservoir and the highest point is near the headwaters of the Rondout Creek at 3,837 ft. The primary tributaries that drain into the Rondout Reservoir are the Chestnut Creek, Trout Creek, Red Brook, Sugarloaf Brook and Rondout Creek. Streams in the Rondout valley are primarily perennial streams, that is, they flow year-round except in smaller headwater streams or in rare, extreme drought conditions.
In order to meet both surface and groundwater needs, both quality and quantity, it was determined that a comprehensive watershed approach was required to document the magnitude of potential impairments, and involve watershed stakeholders in recommending strategies for remediation and management. To date, the Sullivan County Soil and Water Conservation District (SCSWCD) and New York City Department of Environmental Protection (NYCDEP) have completed a stream management plan for the Chestnut Creek and a demonstration restoration project behind the Neversink Town Hall. NYCDEP has plans to conduct a similar study within the Rondout Creek watershed in upcoming years.
USGS Gage Links
The United States Geological Survey (USGS) maintains 11 continuous-recording stream gages in the West Branch Delaware River watershed above the Reservoir. These gages measure the stage, or height, of the water surface at a specific location, updating the measurement every 15 minutes. Click on the Station ID number of your gage of interest to receive real-time water surface data from USGS.
Station ID
Station Name
Drainage Area (Mi_)
Current Period of Record
ABOVE
01364959
Rondout Creek near Red Brook at Peekamoose

5.36

May 1996 – present
01365000
Rondout Creek near Lowes Corners

38.3

Feb 1937 – present
01365500
Chesnut Creek at Grahamsville

20.9

Oct 1988 – present
BELOW
0136230002
Rondout Creek at Rosendale
383
Aug 1926 – present
01362342
Wallkill River at Gardiner
695
Sep 1924 – present

Lower Rondout
Victor-Pierre Melendez
Rondout Creek Watershed Council Coordinator
Hudson River Sloop Clearwater
724 Wolcott Ave.
Beacon, NY 12508
Phone: 845-265-8080
victor@clearwater.org
Upper Rondout
Stacie Howell
Stream Program Coordinator
Sullivan County Soil & Water Conservation District
P.O. Box 256, 273 Main Street
Grahamsville, NY 12470
Phone: 845-985-2581
krauter@rondoutneversink.org