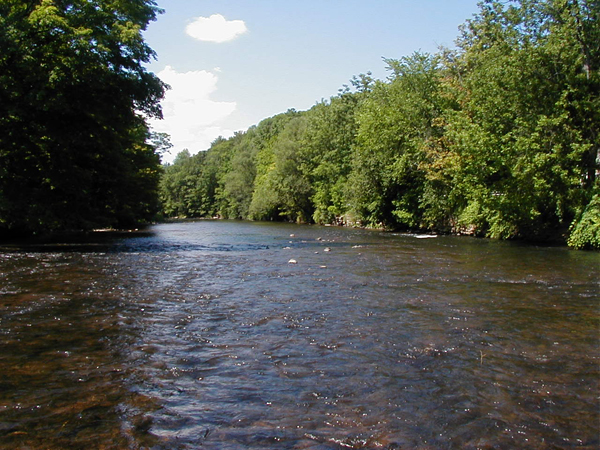 Stream Management Program – Interactive Project Pages
These pages provide information on a selection of full channel stream restoration, stormwater and infrastructure, riparian buffer restoration, streambank stabilization, and floodplain restoration projects that have been constructed to meet multiple objectives including: water quality enhancement, infrastructure protection, improved flood conveyance and sediment transport, improved fish habitat, improved riparian functions and natural channel design demonstrations.
Introduction
The East Branch of the Delaware River is located principally in Delaware County on the eastern portion of the Allegheny Plateau physiographic province. The upper portions of the East Branch Delaware River with its eight tributaries contribute water to the Pepacton reservoir, part of the New York City water supply system operated by NYC Department of Environmental Protection. The total drainage area of the East Branch Delaware River watershed above the reservoir is 371 square miles with 644.4 total stream miles. The watershed includes land within eleven townships and three counties. While the majority of the watershed is contained within Delaware County, sections of the headwaters are found in the western Catskill mountains of Ulster and Greene County.
The Delaware Watershed Stream Management Grant Program offers assistance to local communities, residents, and organizations to advance recommendations from the East and West Branch Delaware River Stream Corridor Management Plans. Categories of funding include: Flood Management, Highway and Infrastructure Improvement, Stormwater Implementation and/or Critical Area Seedling, Recreation-Based Opportunities or Habitat Enhancements, General Restoration Projects, Education/Outreach/Training, on Watershed Protection, and Planning & Assessment.
USGS Gage Links
The United States Geological Survey (USGS) maintains 11 continuous-recording stream gages in the West Branch Delaware River watershed above the Reservoir. These gages measure the stage, or height, of the water surface at a specific location, updating the measurement every 15 minutes. Click on the Station ID number of your gage of interest to receive real-time water surface data from USGS.
| Station ID | Station Name | Drainage Area (Mi_) | Current Period of Record |
| --- | --- | --- | --- |
| 01413088 | East Branch Delaware River at Roxbury | 13.5 | June 2000 – present |
| 01413398 | Bush Kill Near Arkville NY | 46.7 | Oct 1997 – present |
| 01413408 | Dry Brook at Arkville NY | 82.2 | Dec 1996 – present |
| 01413500 | East Branch at Margaretville NY | 163 | Feb 1937 – present |
| 01414000 | Platte Kill at Dunraven NY | 34.9 | Oct 1941 – Sept 1962, Dec 1996 – present |
| 01414500 | Mill Brook Near Dunraven NY | 25.2 | Feb 1937 – present |
| 01415000 | Tremper Kill Near Andes NY | 33.2 | Feb 1937 – present |