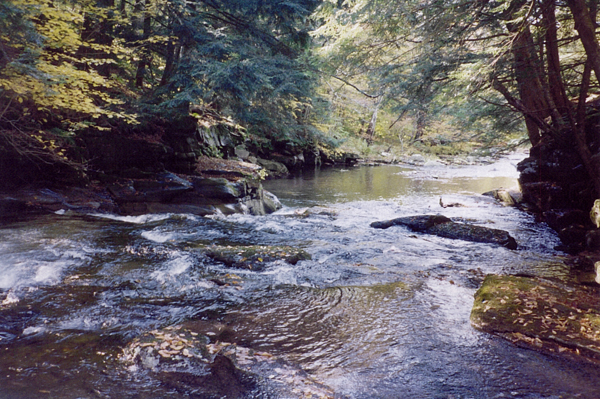 Stream Management Program – Interactive Project Pages
These pages provide information on a selection of full channel stream restoration, stormwater and infrastructure, riparian buffer restoration, streambank stabilization, and floodplain restoration projects that have been constructed to meet multiple objectives including: water quality enhancement, infrastructure protection, improved flood conveyance and sediment transport, improved fish habitat, improved riparian functions and natural channel design demonstrations.
Introduction
Encompassing approximately ninety-three square miles, the Neversink Reservoir watershed is located in Ulster and Sullivan Counties, NY. The Neversink River, including both its East and West Branches, drains seventy-one square miles; twenty-two square miles drain directly into the Neversink Reservoir through two dozen small tributaries. The Neversink watershed lies predominantly in the Towns of Denning and Neversink, with a small portion of its headwaters in the Town of Shandaken, and very small portions of the Towns of Liberty and Fallsburg draining directly into the reservoir. The mainstem divides approximately 8.7 kilometers (5.4 miles) upstream of the Neversink Resevoir into two major Branches, East and West; all three of these mainstems have long narrow watersheds running northeast to southwest. This drainage pattern is controlled by steep topography, formed in large part during the last period of glacial activity. Streams in the Neversink valley are primarily perennial streams, that is, they flow year-round except in smaller headwater streams or in extreme drought conditions. Mean annual precipitation in the watershed ranges from 1220 to 1410 mm (48-55"). The watershed is largely forested, and road density, impervious cover and percentage of the watershed with buildable soil conditions are all relatively low for the Catskills, resulting in low development pressures and high raw water quality. The primary water quality impacts are from atmospheric deposition and management of road embankments and crossings.
In the next few years, the New York City Department of Environmental Protection (NYCDEP) will be reaching out to stakeholders and natural resource managers responsible for the Neversink watershed to develop a comprehensive Stream Management Plan. Similar plans have been developed for other sub-basins and basins in the Catskills (see below). These Plans are multi-objective, and are intended to promote the coordination of resource management and education and outreach on a broad range of management issues, including emergency response to flooding and long-term protection of ecological integrity.
USGS Gage Links
The United States Geological Survey (USGS) maintains 11 continuous-recording stream gages in the West Branch Delaware River watershed above the Reservoir. These gages measure the stage, or height, of the water surface at a specific location, updating the measurement every 15 minutes. Click on the Station ID number of your gage of interest to receive real-time water surface data from USGS.
| Station ID | Station Name | Drainage Area (Mi_) | Current Period of Record |
| --- | --- | --- | --- |
| 0143400680 | E BR NEVERSINK R NORTHEAST OF DENNING | 8.93 | Oct 1990 – present |
| 01434017 | EAST BR NEVERSINK RIVER NR CLARYVILLE | 22.9 | Feb 1937 – present |
| 01434021 | W BR NEVERSINK R AT WINNISOOK L NR FROST VALLEY | 0.77 | Jan 1991 – present |
| 01434025 | BISCUIT BK ABOVE PIGEON BK AT FROST VALLEY | 3.72 | Jun 1983 – present |
| 01434498 | WEST BRANCH NEVERSINK R AT CLARYVILLE | 33.8 | Jul 1991 – present |
| 01435000 | NEVERSINK RIVER NEAR CLARYVILLE | 66.6 | Jul 1951 – present |